An easy CRM in your inbox
View profile information of the person you're emailing, or who emailed you
Create private notes about an email contact
Set up a reminder alarm for that contact
A list of all the email conversation history you have with that email contact

Integrated into Gmail No extra software!
Run your business with an easy CRM right in your Inbox!
Fully Integrated With Gmail
Gmail Copilot by cloudHQ works to make absolutely sure that you can access everything you need about an email contact right within your email's inbox. It works within Gmail and G Suite email domains, and installs within seconds. There's nothing to download or install on your hard drive. Once installed, you'll automatically see your email contact's social profile, and all past conversations you've had with them on the right hand side of your email.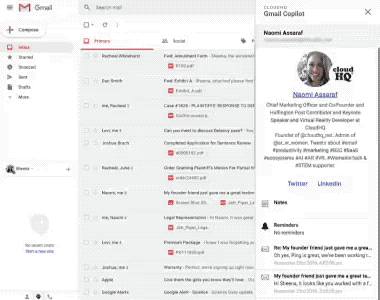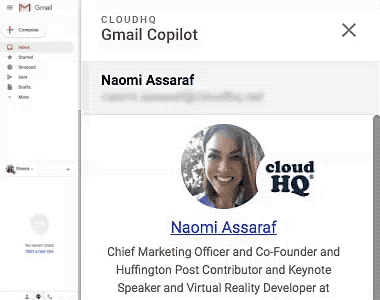 Profile information
It's really important to be able to see who you're emailing. With Gmail Copilot, you'll easily be able to see your email contact's work title, profile description, and any of their social media profiles like LinkedIn, Facebook, and Twitter.
Notes
You'll also have the opportunity to write notes about your email contact. For example, maybe you'd like to write a note that your client has a budget of $150,000 to spend on marketing projects by Q4.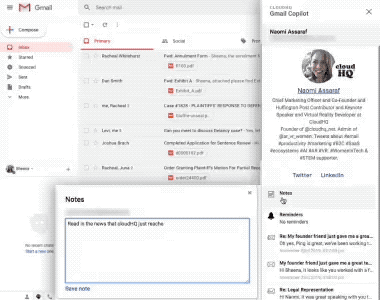 Reminders
You can also create a reminder for that contact. Maybe your contact asked you to touch base in 1 week, and you'd like to set yourself a reminder so that you do follow up in a week's time. Gmail Copilot gives you the power to proactively stay on top of tasks like follow up calls.
All Past Email Conversations
We all hate searching for email conversations, and it happens to us often enough that we probably want to find a resource to get around wasting time searching for emails. With Gmail Copilot, it'll easily list every single email conversation you've had with an email contact. You can preview the email, or open it up right from within your inbox!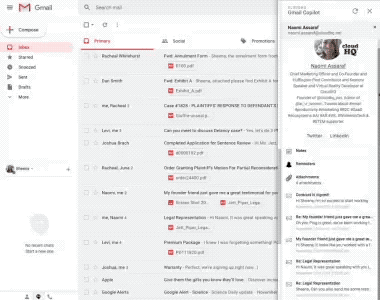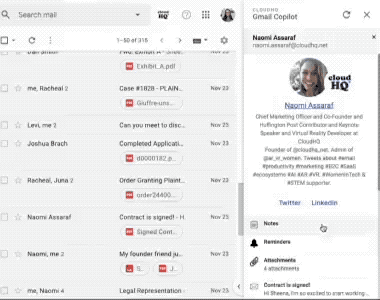 Email Attachments
Email attachments will be listed for you as well— so if you have that purchase order, or contract in an email, it will always be available for you in a click of a button.
Near Universal 5-Star Ratings
Gmail Copilot has almost universal 5-star reviews from users who have downloaded it in Chrome.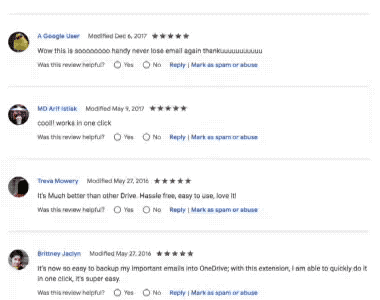 ---
Who Uses Gmail Copilot by cloudHQ?
Sales Professionals
Anyone in sales needs a way to be organized in their email conversations, so that they can best serve their customers. Instead of spending valuable time searching for an email, have everything ready at your fingertips and be ready at the drop of a hat for a conference call—even if it's last minute, where you can still instill confidence that you understand everything your client needs you to at all times. Gmail Copilot is a must-have.


Legal Professionals
It's important to make sure that your legal cases are up to date, and that you be briefed on past email conversations within seconds. You can count on Gmail Copilot to deliver. There's even an option to only view attachments—handy feature for a contract or a deposition search.
Realtors
If you are a realtor, and you're not using this, you are missing out! This is primarily one of the best tools you can use to make sure that you don't forget anything about closing on that very special property!


Smart, Productive People!
Are you just an impressively productive person who wants to keep track of everything so that you can easily follow up with all of your conversations? It's hard to keep up with your family, friends, and orders. This is an easy way for you to be able to amalgamate all your email conversations into one neat, and tidy place for you, so you don't need to remember every single little thing. Goodness knows it's next to impossible without a little help from the likes of Gmail Copilot.